7 Reasons why BooHoo.com is So Successful – and Why this Could Continue
BooHoo.com merchandise 'pivot' through pandemic sees its share price at an all-time high
The share prices of most UK retailers have suffered big falls. Debenhams, Oasis, Warehouse, Laura Ashley, Cath Kidson, Monsoon, Quiz are in administration. Zara / Inditex is closing 1,200 locations. In the US, Neiman Marcus, JC Penney, J Crew, John Varvatos are bankrupt and Tommy Hilfiger and Gap have posted losses of $1bn in Q1.
BooHoo.com: Small in Absolute Terms v Competitors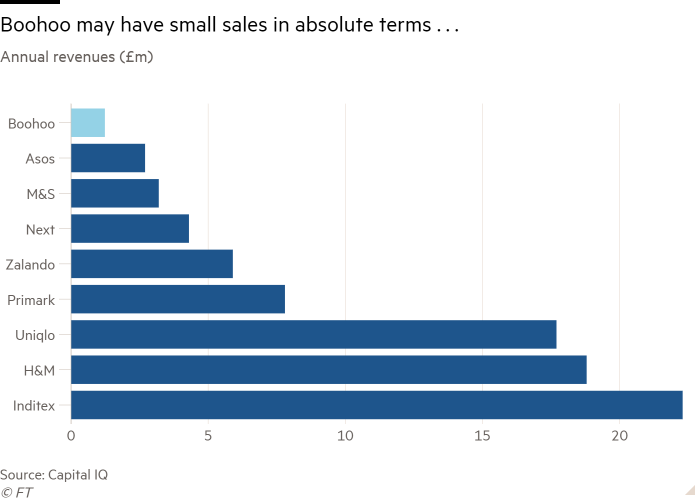 However, Boohoo.com share price is at an all-time high. It is forecasting a sales increase of 25% in 2020. Its £5.2bn market value would see it join the FTSE 100 if it traded on the main market rather than the smaller AIM listing. Boohoo is also outpacing online peers such as Asos and Frankfurt-listed Zalando, though not by as much. Even brands that appeal to the same young customer base as Boohoo, such as Primark and JD Sports, will suffer sales fall this year.
Likewise, Depop - the second hand shopping app - is talking about triple digit YOY growth. US rival, Poshmark, had its highest sales week ever on the 3rd week of April 2020 - in the middle of the pandemic.
BooHoo.com: Higher EBITDA Margin than Competitors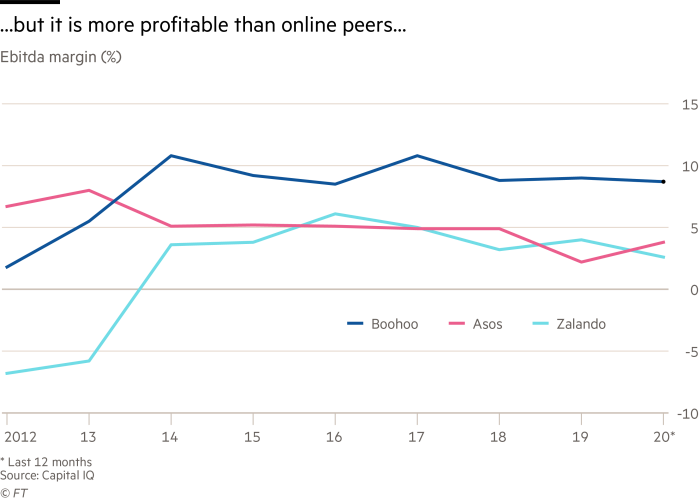 Why is BooHoo.com so successful? Here are seven reasons:
1.     Local suppliers: about 40% of its ranges, mostly targeted at 16 to 24-year-old women, are made in the UK. It makes small batches initially and does larger runs if they sell well, so it never needs margin-shredding sales to clear stock.
2.     Agile test + repeat learning: Boohoo suppliers are 'experts at our test and repeat model and our need to turn things around quickly' - according to the company. 
3.     Margin: as Boohoo is an own label business, its margins are higher. Asos sells other people's products as well as its own which dilutes the margin percentage. 
4.     Not seasonal dependent: Boohoo switched from holiday and eveningwear to the lockdown staples of leggings, tracksuits and sweatshirts during the pandemic. Other brands had to worry about what to do with container loads of summer fashion - and are now facing margin issues as a result 
5.     Digital-savvy: They understand and embrace the social media that their customers use. Their staff understand how digital marketing works. They're not afraid to make mistakes. If something doesn't work, they just move on and try something else. 
6.     Best of breed eCommerce technology:  Boohoo did not build its own eCommerce and IT system. They were early adopters of Salesforce and Amazon AWS. They take the view that buying off the shelf at reasonable cost is a better strategy - unlike, say, ASOS which started several years earlier and have proprietary tech. This means that BooHoo have a lower capital spend, and concentrate on what matters product and marketing — an area where it routinely spends 10% of revenue. 
7.     Product expertise: Boohoo co-founder Mahmud Kamani spent years in the clothing supply chain and has the perfect product background. Technology and marketing are one thing, but Mr. Kamani's knowledge of product is the magic ingredient. 
Digtally Savvy: BooHoo.com brands Instagram Followers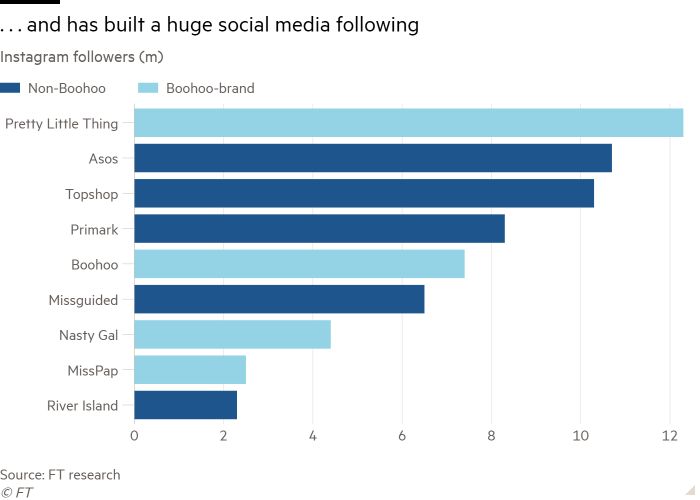 The BooHoo.com Future: Bright for the Brands, Cries of 'BooHoo' from Competitors
Boohoo acquired Karen Millen in 2019, and Oasis and Warehouse in June 2020. It has made no secret of its willingness to acquire more, and has £350m of cash to do so. If they apply the savviness that they apply to Boohoo – particularly around merchandise selection and marketing, then the future is only upwards. These brands were encumbered with stores and a sub-par online presence. As the cost of eCommerce technology or digital marketing to power these brands will not increase linearly by adding them to the existing 'machinery'.
Both Mr Kamani and co-founder Carol Kane brought in outside help to run BooHoo by bringing in former Primark chief operating officer, John Lyttle, to run the business in 2019. During his time at Primark, Lyttle was part of the team that tripled sales to £7.7bn. Mr Kamani and Ms Kane have declared their intention to build the online equivalent of Zara or H&M.
As it stands right now, it will be the competitors that are crying 'boohoo', not Mr Kamani or Ms Kane.
SOURCE: https://www.ft.com/content/a5c0d28c-7d26-42b0-9e2e-0e2a27bb1b03
Comments
0